New (preliminary) Flood Insurance Risk Maps for Forest Home along Fall Creek
The Town of Ithaca April newsletter provides a link to material from a March 8 FEMA Consultation Coordination Officer Meeting for Tompkins County municipalities. As stated in the newsletter, the changes in the Flood Insurance Risk Maps (FIRMs) do not greatly impact Town of Ithaca properties. However, there are changes that may affect properties alongside Fall Creek in Forest Home. If you see from the maps below that your property may be affected, you may want to consider attending one of the public information sessions.
Wednesday April 26, 2023 — Ithaca High School Cafeteria (1401 N Cayuga St)
Thursday April 27, 2023 — Tompkins County Whole Health Building (55 Brown Rd, near airport)
Both sessions are open houses, running from 4:30pm to 8:30pm, where you can address your questions individually to FEMA representatives. More information is available from the Town of Ithaca at Flood Risk Open House Meetings.
The FIRM maps consist of rectangular panels. The section of Fall Creek in Forest Home is divided between two panels. The western section, closer to Beebe Lake is in panel 36109C0203D and the eastern section, including the 3xx block of Forest Home Drive is in panel 36109C0204D. For your convenience, we have extracted the relevant sections from the two high-resolution images and show them below. The top three color blocks in the legend for the full panels indicate the areas of concern. The area with red striping is the normal path of Fall Creek. The blue areas indicate a higher chance of flooding than the brown areas; the blue areas have a 1% annual chance of flooding. Consult the FEMA Glossary for full definitions of terms.

The western part of Fall Creek in Forest Home is shown first [full resolution]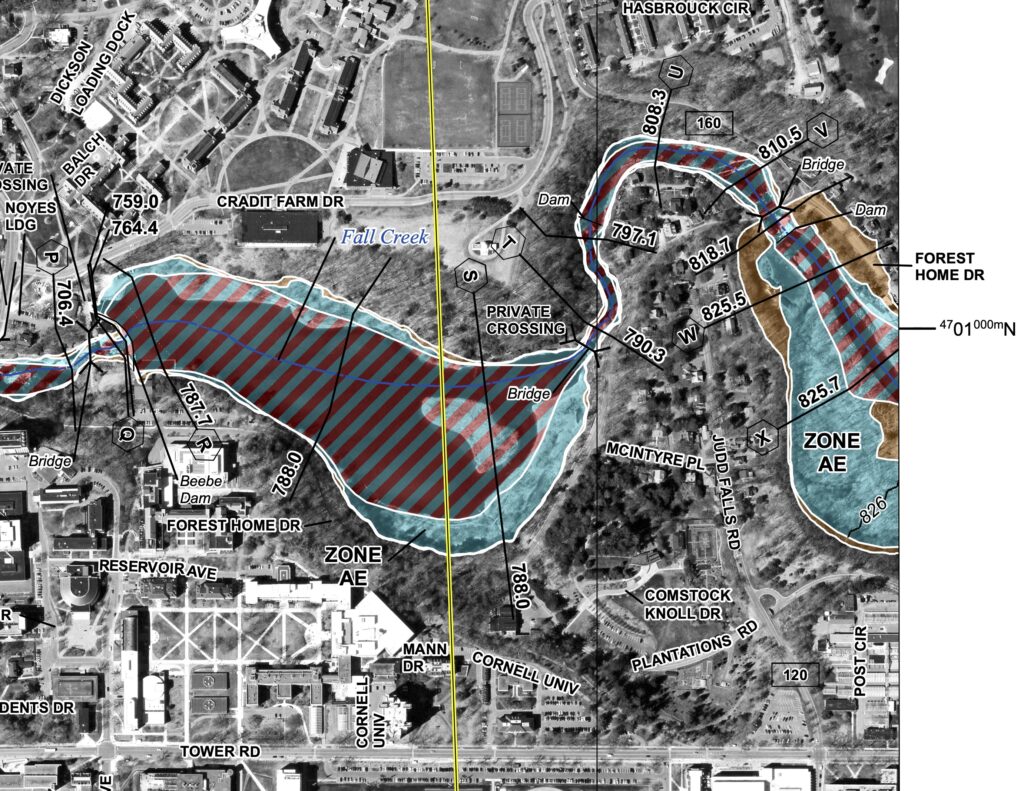 The eastern section of Fall Creek in Forest Home is shown below [full resolution]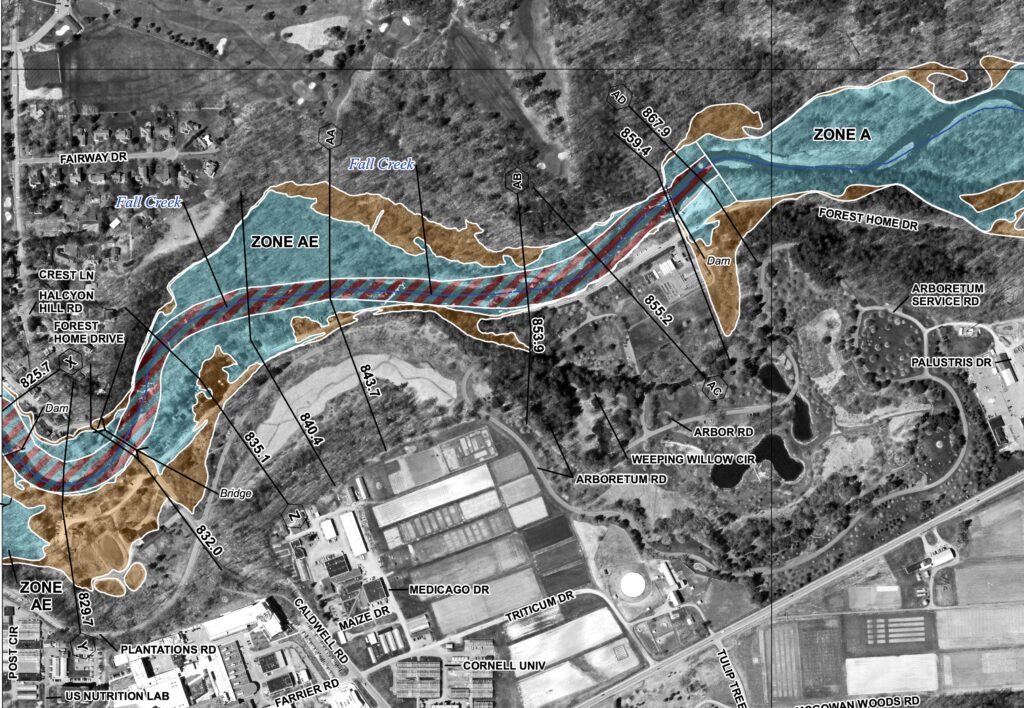 FEMA has not provided direct visual comparisons with the current Flood Insurance Risk Maps, which date from 1985. An extract from the 1985 map is below, shown in the window of FEMA's FIRMette viewer [Full resolution].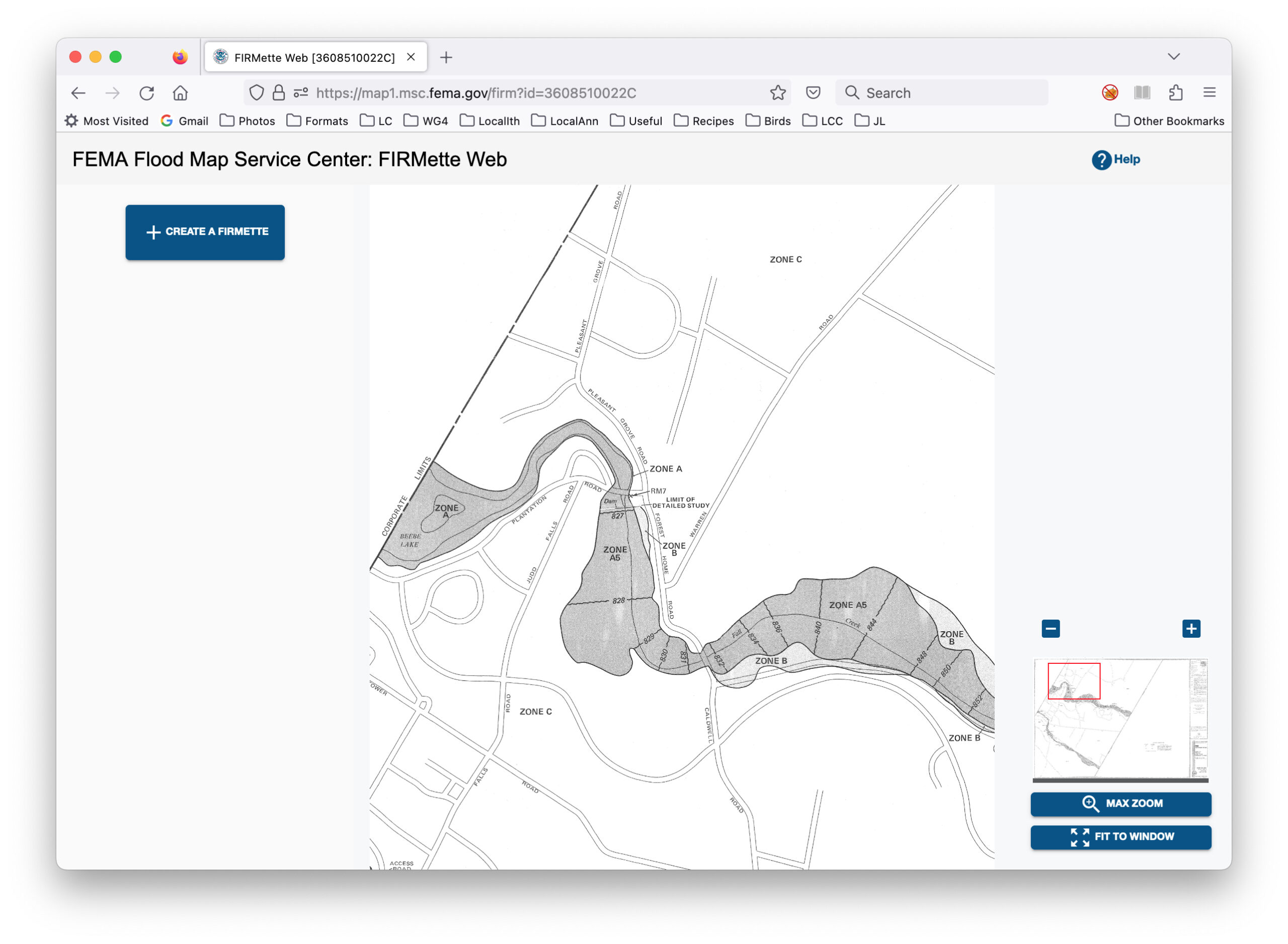 The Town's April newsletter provides contact information for questions, comments, and/or concerns: Thomas Song, Acting Regional Flood Insurance Liaison [Thomas.song@fema.dhs.gov] or Laura Shepherd, ARC Project Manager [lshepherd@moffattnichol.com].